What you can order from us
DENTAL CHAIR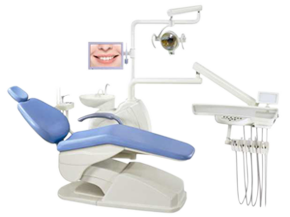 Specification:

High-speed Handpiece Pipe (4holes) 2sets
Low-speed Handpiece Pipe (4holes) 1set
Low-mounted Instrument Tray with Air Brake 1set
Water Tank (Air pressurized) 1set
Three Way Syringe (hot/cold water) 1set
High Power Suction and Saliva Ejector 1set for each
Operating Light 1set
24V Noiseless DC Motor 1set
Auto Spittoon Flush and Cup Filler Control System 1set
Foot Controller 1set
24V X-ray Viewer 1set
Dentist Stool 1set
Immovable Ceramic Cuspidor.
Technical specification
:
Power Voltage: 220V 50HZ ; 110V 60HZ
Motor Voltage: 24V
Water pressure: 0.2MPa-0.4MPa
Air pressure: 0.5MPa-0.8MPa
DENTAL X-RAY CAMERA WITH CHAIR
Specification :

Use the international advanced technology, high-efficiency, clear imaging, low leak radial, it is only 1% of national standard
Light touched button, controlled with microcomputer, only press one button to select the expose parameter, fast and accurately
Developing in light room, image in one minute, the doctor can diagnose conveniently for maximum
Pneumatic up-down seat, more convenient and more comfortable
It is for the use of the digital imaging system of mouth
Technical specification :
Power supply: AC 220V±10%,50/60HZ 1kVA
Tube voltage: 70KV
Tube current: 8mA
Focus size: 0.8mm
Total filtration: 2.5mmAL
Exposure time: 0.1-4sec
Leak radiation: outside one meter≤ 0.002mGy/h.
MOUNTED DENTAL X-RAY CAMERA
Specification :
The microprocessor-controlled timer brings high-tech x-ray imaging at your fingertips.
The control panel allows an accurate and fast exposure time selection while protecting the head during X-ray examinations.
Fitted with 70KV 8mA tube with preheating grid, the machine has been specially designed for intraoral dental diagnosis applications.
Complies with local and international regulations on ionizing radiation protection for maximum safety.
The soft positioned arm ensures naturally smooth and well-balanced movements. It is easy installed at the desired height and length.
It is ergonomics and design has been studied to meet the requirements of the most demanding practices in matters of floor space optimization.
Technical specification:
Power supply: AC 220V±10%,50/60HZ 1kVA
Tube voltage: 70KV
Tube current: 8mA
Focus size: 0.8mm
Total filtration: 2.5mmAL
Exposure time: 0.1-4sec
Leak radiation: outside one meter≤ 0.002mGy/h.
PORTABLE DENTAL X-RAY MACHINE
Feature :

It is Change Electronic newest development production. It is the minimum size hand and portable dental X ray machine.
It uses micro power, micro focus, and micro exposure.
In non-working area, there almost is not X ray light. So it is very safety for the doctor and also safety for the patients.
It can be controlled by remote, too. The picture is high quality. The leakage of X ray light is very lower than the national standard of GB 18871-2002.
Since this X ray machine is sold in the market, it got hot welcome. It is the best choice for doctor tour treatment out of the clinic.
Specification :
Power voltage: AC220V 50Hz or 110V 60Hz
Power: 70W
Exposure time: 1-9.9sec (adjustable)
Internal voltage: 70KV
Filament frequency: 68KH
Leakage radiation: ∠10uGy/h
Net weight: 1.6kg
Machine size: 140*150*110mm
Operation: hand hold, remote, fixed in a support..
DENTAL DIGITAL X-RAY SENSOR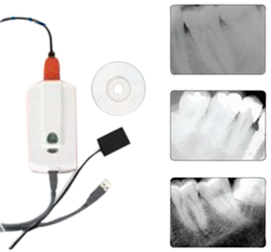 Feature :

New APS CMOS sensor with long life time (400,000 times).
22lp/mm: high identify ability of details and low x-ray dose, no matter to dentist or patient.
High efficiency = immediate effect: only within few seconds, the x-ray image will show on the monitor.
A good scintillator, enhances the x-ray conversion efficiency and improves light transmission ability.
Multi-user solution: the management system is for providing multiuser solution.
Powerful imaging software: it has image processing algorithms to improve the image quality, and also is a very powerful patient's management software.
Sensor specification :
Overall sensor size: 40*26mm
Thickness: inferior 6mm
Active pixels: 1450*910 (1.3M)
Total pixels: 1451*918
ntrinsic resolution: 22lp/mm (22.6)
Grey value: 4096
Cable length: 2M (USB Cable: 2.5M/ 3M/ 5M)
Control box specification :
Overall size: 92*66*28mm
PC interface: USB 2.0 (full speed)
Supply voltage: 5.0V (4.25V min.)
Supply current: 500mA max
Digitization: 12 bits perpixel
Driver: free driver (windows)
Packing size: 290X390X50mm
Weight: 2.5kg
Power: 24V8000MA 220V/110V 50Hz
Environmental temperature: 5-40 ªC.